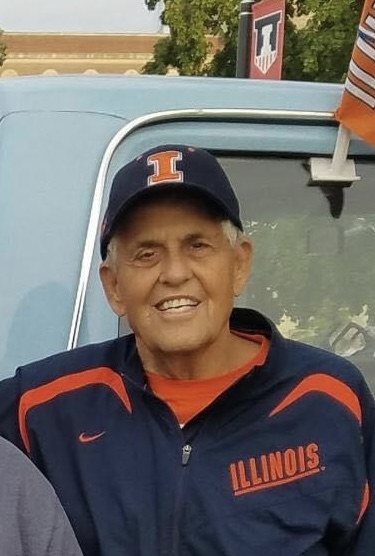 Bruce A. Miller, 85, of Homer passed away unexpectedly at home Tuesday (Nov. 1, 2022).
Bruce was born in Chicago on Feb. 16, 1937, to William and Leona (Stinson) Miller.
He married Jan (Rademacher) Miller on Aug. 7, 1971.
He is survived by his wife, Jan, and a sister, Nancy (Richard) Jamison of Homer. He has four children, Eric Miller of Tempe, Ariz., Cyndi Pence of Walla Walla, Wash., Kim McGuire of Champaign and Chris (Jay) Coburn of Matteson. He has nine grandchildren, Jason (Sharon) Williams of Chandler, Ariz., Tyler (Alexis) Coburn of Chicago, Stacy McGuire of Perrysburg, Ohio, Janette Ramos of Chicago, Cory Eck of Lewiston, Idaho, Christopher John (Amanda) Coburn of Bonfield, Patrick (Alicia) McGuire of Bloomington, Megan Eck of Lewiston, Idaho, and Nathan (Kaylee) Coburn of Kansas City, Mo. He has eight great-grandchildren with another one on the way.
Bruce graduated from Mahomet High School and received both a bachelor's and master's degree from the University of Illinois Urbana- Champaign, where he also was a student trainer for the Illini football team during the Pete Elliott era. He spent his entire adult life teaching, counseling and coaching, including the Ridge Farm school district, Homer/Heritage school district and Urbana High School. He was instrumental in initiating the Fellowship of Christian Athletes chapter at Homer High School. In addition to his public school teaching, Bruce wanted to impact people's lives outside of the classroom and off the football field. He chose to do that by teaching private swimming lessons. What began as a small summer job teaching at the Chief Illini Motel at Five Points in Urbana turned into a year-round passion. In the late 1970s, he opened Miller Aquatics and Health Club in Homer. Students from all four corners of the state, as well as some from out of state, came to learn swimming technique and life lessons from Bruce for over 60 years, up to and including the day before his passing.
He was best known for his years of influencing and coaching students in football, swimming and beyond. He was a die-hard Illini fan who regularly attended football, basketball, volleyball and swimming events. He was thrilled with the success of this year's football team and looked forward to the expected success of the upcoming basketball season.
Bruce was a 40-year member of Twin City Bible Church and most recently a regular attendee of C-U Church. He dedicated his life to the Lord and encouraged others he came in contact with to do the same.
Visitation will be from 4 to 8 p.m. Wednesday, Nov. 9, at Heath and Vaughn Funeral Home, 201 N. Elm St., Champaign. Funeral services will be at 11 a.m. Thursday, Nov. 10, at Twin City Bible Church, 806 W. Michigan Ave., Urbana. Parking will be permitted on the side streets around the church for the funeral service. The service will be livestreamed at tcbc.cc/brucemillerservices. Pastors Bill Meier and Shannon Caughey will officiate. Burial will follow in Mount Hope Cemetery, Champaign. Bruce will be wearing his Illini attire, and we encourage guests to do the same.
In lieu of flowers, please consider a memorial gift to Tom Jones Challenger League, St. Jude Children's Research Hospital, Tunnel to Towers Foundation or your local humane society.