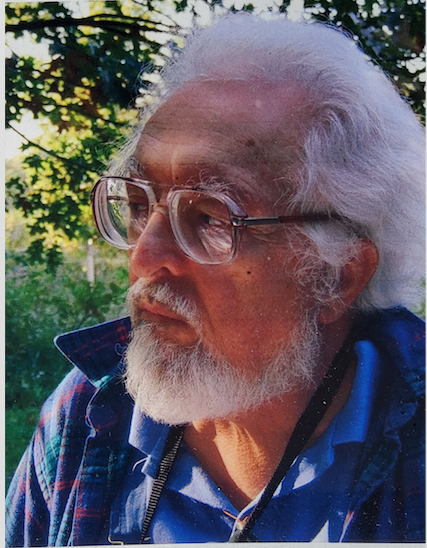 Michael Holloway was born in Chicago Heights on March 6, 1943, and died at home on Sept. 15, 2022.
Michael was a loving father tending to his two wild boys in the daytime since he taught in the
evenings; a guide and joyful entertainer to his many students; a caring and devoted grandfather;
and a loving husband, with wise words to amuse and stimulating ideas to provoke thought.
Michael, the son, father, husband, brother, teacher, and poet, is survived by his wife, Penny Hanna; two (maybe three) sons, older son Brendan Hanna Holloway, wife Malia McClurg and grandsons Graham Hanna Holloway and Gaige Hanna Holloway; and younger son Nathaniel Hanna Holloway and partner Sophie Cook (and Oakland Calhoun, although we are not sure if this human being was one of many imaginative stories woven by Michael); older sister, Marcia White; younger brother, David Holloway; and nephew, Jeff Armstrong and wife Jo Ellen Armstrong and their children, Will, Jake, Luke, Emily and Ryan, who enjoyed (or were entrapped) in his "Abu Adventure" stories.
Michael was preceded in death by billions of humans, but those most closely related to Michael are his father, Leroy A. Holloway; mother, Margot Holloway (nee Clark); sisters, Kathleen Armstrong (nee Holloway) and Roy Armstrong; brother-in-law; and twin brother, Mark (which may be another tall tale).
Michael won the American Academy of Poets prize as a student at the University of Illinois in 1968. He studied and collaborated with composers Herbert Brun and Salvatore Martirano. He also studied with John Frederick Nims, Kerker Quinn, among many others in the English Department, Sociology Department, Heinz von Foerster in engineering, as well as other composers and musicians in the Department of Music.
Michael toured the country with Salvatore Martirano and Donald Smith (and other loonies), performing the multimedia composition L'sGA (Lincoln's Gettysburg Address). These performances spanned 19 colleges and universities between 1967-1994 and finished at Krannert Center for the Performing Arts, University of Illinois Urbana-Champaigin.
Michael is best known for poetry readings in many arenas from the UI Stock Pavilion to the University of California, Los Angeles, to the Electric Circus in New York City.
Michael worked from the 1950s to the 2000s as a farm and kitchen laborer, steel worker, teacher and performing artist. He taught pre-school children, secondary school students, college students and adult education. He taught the longest at Parkland College, Adult Education Department, which included many years at the Illinois Department of Corrections Work-Release Center in Urbana.
Michael continued writing poetry, short stories and plays and has published three books of poetry: "The Rocking House: Selected Poems 1966-1998," "Habit's Dad" and "Infinity's Middle." During the 80s and 90s, he performed his poetry at local venues, such as White Street Art's Center and House Theater, with the Performers Workshop Ensemble.
Michael will be remembered by his poetry, original in form and content, which is best discovered at the local library in his published volumes, and two CDs reading the entire books. Michael's expansive, incisive, ironic and certainly original sense of humor was his elegant skill that made him a mentor and entertainer for many artists and friends through the years.
Michael would quote Samuel Beckett's manner of announcing the death of a friend, "He changed tense."
With love and sorrow, we barely tell you his story. The family plans to have a gathering to celebrate Michael's life and escapades in spring 2023.