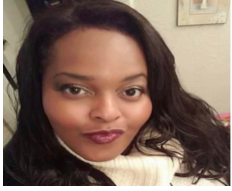 Ronda Jean Osler was born on June 17, 1976, in Champaign, IL to Willie Joe and Donna Brown Osler. She grew up in Champaign and graduated from Centennial High School in 1994. She attended Parkland College and was also active in the Apostolic Faith Church. Receiving a scholarship, she went to Atlanta, GA, and attended Clark Atlanta University for 3 years. From there she moved to Indianapolis, IN where she attended the University of Indianapolis. Her studies continued at Dudley Beauty College in Durham, NC and she graduated with makeup certification. She spent the next 20 years living in Raleigh, NC where she worked at Wal-Mart as an HR Representative and clerk. At the same time, she was a self-employed makeup artist. For health reasons, she returned to Champaign in September 2021 and resided with her mother.
She leaves to cherish her memory her mother, Donna Jean Osler Davis (Sam), Baron Lamont Batie, Tiffany, Jennie Osler Wordlaw (Joel), Willie Jay Osler (Nicole), McKenzie Deniro Davis, Kamal Lavonta Davis, Emma Osler, and Freda Osler.
Aunts: Thelma Osler Brown, Dorothy Osler Mcmullen, Nolia Osler Mcmullen Bells, Shirley Osler, Della Osler, Delois Osler, May Ellen Brown, Kimberly Carr, Joann Brown.
Uncles: Curtis Wayne, Osler (Della), Apostle Robert Smith (Cassandra), Winifred Earl
Cousin Pete Brown
She was preceded in death by her father, Willie Joe Osler
Homegoing & Celebration of Ronda's life will take place on Friday September 16, 2022.
Visitation will be from 10 AM – 12 PM with a service at 12 PM at Restoration Urban Ministries; 1213 Parkland Ct; Champaign
Burial/committal will be at 2:30 PM in Lincoln Memorial Garden; Urbana
No comments to show.