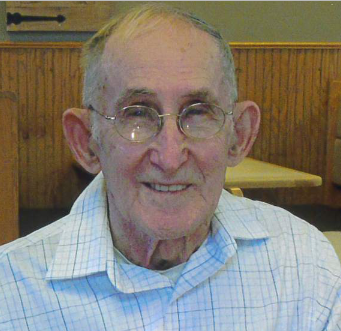 Wayne Winslow, 91, of Champaign, died peacefully from a brain tumor on May 10, 2023, at CU Nursing & Rehab in Savoy.
He was born on April 20, 1932, to William and Pearl Winslow on the family farm south of Hindsboro near Greasy Creek.
He attended country grade school south of Hindsboro and Hindsboro High School, and graduated from Oakland High School in 1951.
He served in the Army for three years and later in the Air Force for four years. After returning from the Army, he married Naomi Swinford on Aug. 10, 1959. They enjoyed doing everything together for 64 years.
Wayne farmed and tended livestock for a few years and enjoyed a variety of jobs before retiring from the University of Illinois after 29 years of service.
He enjoyed riding his Indian and Harley Davidson motorcycles in his younger years. He also enjoyed yard work, gardening and working on motors, yard sales, reading books and newspapers. He loved Naomi's cooking; his favorite foods were chocolate and desserts. He loved animals, spoiled their dogs and was always ready to help anyone who needed it.
He was quiet and a thinker. He had a dry sense of humor and enjoyed telling jokes and stories. His favorite sayings were "there is no success without hard work", "a penny saved is a penny earned", "the three stages of life are go, go, go, then slow go and no go".
Wayne was preceded in death by his parents and one brother, Raymond, and sister-in-law, Evelyn.
He is survived by his wife, Naomi, a nephew Dan Winslow of Ocala, Fla., and niece, Connie Winslow, who continues to manage the family farm south of HIndsboro.
According to his wishes he has been cremated. Burial will be private in Danville National Cemetery with full military honors.
Donations in his memory may be made to: Champaign County Humane Society or Operation Honor Guard.